The name Bigfork is derived from the Salish name for the area. There are reports of a homestead and orchard immediately north of Bigfork as early as 1885. Everit L. Sliter set out 500 apple, cherry, plum and pear trees in 1892 on Flathead Lake's east shore. In 1902. he platted the Bigfork townsite at the mouth of the Swan River. The east shore has since become a major cherry growing area. Wayfarers State Park lies just south of town.(Copyright 2009, Montana Historical Society: Montana Place Names from Alzada to Zortman, Montana Historical Society Research Center Staff).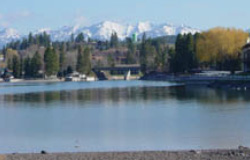 Bigfork has been distinctly honored with designations in the following publications: The 50 Great Towns in the West, 100 Best Small Art Towns, The Great Towns of America, and National Geographic Guide to Small Towns Escapes. Bigfork is an exceptionally lovely, upscale, year-round resort village that is brimming with art galleries, fine restaurants, golf, high-end boutiques, and live theater.
Bigfork is located on the Flathead Lake in the center of an outdoor enthusiast's paradise with plenty of fishing, boating and hiking opportunities to enjoy. Located in the community is the impressive and challenging Eagle Bend Golf Course.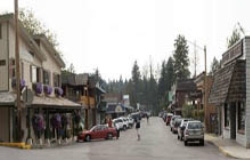 The Bigfork Summer Playhouse is considered one of the Northwest's finest repertory theaters. The fast-paced, light singing, dancing and acting provide great family entertainment. The Broadway musicals which are presented Monday through Saturday feature some of the most outstanding young talent in the country.
Bigfork is the gateway to the 91-mile Seeley-Swan Scenic Drive. 'The Swan' runs between two majestic mountain ranges, past pristine lakes and heavily wooded slopes.
Tourism and cherry orchards now support the local economy.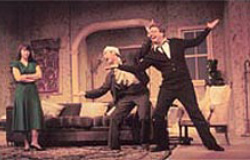 Dragon Boat Races
Cherry Harvest Season
Bigfork a Christmas Village
Bigfork Art Festival
Fourth of July
Thank you, RY. I sleep better knowing you are on it.